Dr. Louise (Gallagher) Sterritt
Practice Name:
ACHIEVE Speech and Language Therapy Services
Mobile:
Website:
www.achievespeechandlanguage.com/
Email:
[email protected]

Address: Clinics available in PINEHILL DANCE STUDIOS UNIT 26 PINEHILL IND. ESTATE LETTERKENNY F92 T998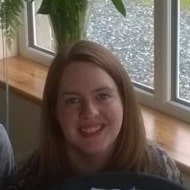 About my practice
Louise (Gallagher) Sterritt is a Speech & Language Therapist at ACHIEVE Speech and Language. She has clinics in Letterkenny.   You are welcome to call 086 1246 596 (please leave a message if unavailable) for an obligation-free chat about your particular speech / language / communication questions.    Please visit the website www.achievespeechandlanguage.com for further details regarding fees, clinic locations, what assessment entails etc.   Connect with Louise @ ACHIEVE across the following platforms: www.facebook.com/AchieveSpeechAndLanguage www.twitter.com/AchieveSpeech www.pinterest.com/AchieveSpeech
Availability: Louise is only available part time, with limited availability. Currently prioritising initial assessments/reports and also adult clients.
Qualification: 2005 B.Sc. (Hons.) Clin. Lang. – Trinity College, Dublin
Areas Treated
Children:
Adults:
In Person Speech Therapy Locations
Online Speech Therapy
Available