Deirdre Tobin
Practice Name:
First Words
Mobile:
Website:
https://www.firstwords.ie
Email:
[email protected]
Address: First Words, Unit 6a, Fota Retail Park, Carrigtwohill, Co. Cork T45 RX70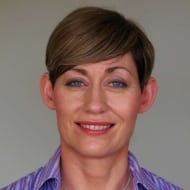 About my practice
I have almost 30 years of continuous clinical experience working with children and teenagers with a wide range of speech, language and communication disorders. I previously worked for the HSE over many years, before starting my own practice in November 2015.
I have completed and implemented many specific courses for the treatment of:
Speech Sound Disorders (Nuffield Dyspraxia Programme 3 (NDP3);Treatment for Inconsistent Phonological Disorder; Multiple Oppositions Approach)
Autism Spectrum Disorder (Hanen – More Than Words; Hanen – Talkability; SCERTS; PECS; Attention Autism; Social Thinking)
Stammering (courses from the Michael Palin Centre for Stammering; courses by Scott Yaruss)
Language Delay and Disorder (Hanen – It Takes Two To Talk; Elkan; Word Aware; Postgraduate modules on DLD)
Selective Mutism (Courses by Maggie Johnson and Susannah Thomson)
I have a particular clinical interest in Speech Sound Disorders and I have a lot of experience in working with young children with severe and complex speech sound disorders.
My focus is to treat my clients in a professional, flexible and child friendly environment, with a purpose designed therapy space using evidence-based approaches.
Qualification: B.Sc. at TCD 1994
Areas Treated
Children:
In Person Speech Therapy Locations
Online Speech Therapy
Not Available