Joanne Fine
Practice Name:
Joanne Fine Speech & Language Therapy
Mobile:
Website:
https://www.facebook.com/ButtercupSpeechLanguageTherapy/
Email:
[email protected]
Address: All services are provided in Beacon Therapy Centre, clients home, schools, community or residential setting.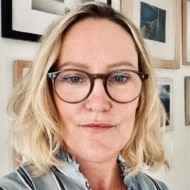 About my practice
Joanne Fine, Speech & Language Therapist (BSc. Clinical Speech & Language Studies, TCD) is a member of the IASLT and is CORU registered.  She provides holistic child/person-centered therapeutic services in the home, school, clinic, community and residential setting. She aims to bridge the gap for children and adults with Speech, Language, Communication and Feeding Eating Drinking and Swallowing difficulties who are awaiting assessment and intervention with public service providers.  Joanne believes that all individuals should develop functional communication skills to the best of their ability. Early and consistent intervention is essential for children to become competent communicators. ​ We support individuals across the environments where they spend most time with an agreed therapeutic approach. The most effective approach required to develop their speech, language and communication skills will depend on factors that are unique to each client and their family. We accept speech & language therapy referrals from parents, schools (with consent) and allied professionals (ENT, G.Ps, Psychology, Occupational Therapy, Physiotherapy) as well as adult self-referrals.   Joanne Fine, Speech & Language Therapist is registered with CORU and IASLT and has up to date public liability and indemnity insurance. She is Garda vetted are trained in child protection and safeguarding vulnerable adults.   Strict COVID-19 hygiene and safety protocols are adhered to.
Availability: Services are provided either in clients home or in clinic @ Beacon Therapy Centre, Sandyford, Dublin 18 Call 086 3332273 for a FREE confidential Speech & Language Therapy consultation
Qualification: B.Sc Clinical Speech & Language, Trinity College Dublin
Areas Treated
Children:
Adults:
In Person Speech Therapy Locations
Online Speech Therapy
Not Available