Karen Arnold
Practice Name:
Achill Sound and Speak
Phone:
Mobile:
Email:
[email protected]
Address: Derreens Achill County Mayo F28EY22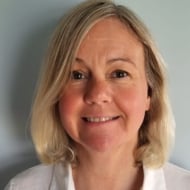 About my practice
Senior Speech and Language Therapist With 30 years experience working with children and adults with disabilities/Autism and children with speech and language difficulties.
I offer assessment, intervention, training and preventative work as required. I can also provide group interventions.
I can provide home visits, preschool visits, school visits and centre visits in Achill, Mulranny, Newport, Castlebar, Westport and Belmullet and surrounding areas.
I am able to provide training to parents,  preschool, schools, day centres and other relevant professionals.
Availability: Monday to Friday 9.30am to 5.00 pm
Qualification: BSc Speech Pathology and Therapy 1991 Manchester Polytechnic
Areas Treated
Children:
Adults:
In Person Speech Therapy Locations
Online Speech Therapy
Available